Please take a minute
to review a sample order form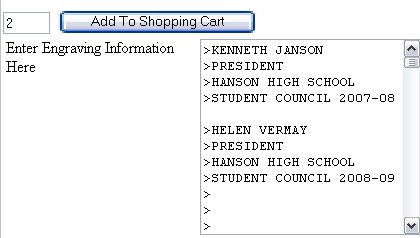 Accessoies:


Place Your Order


To Order:
STEP 1- Enter Quantity,
STEP 2 - Enter Each Line of Personalization, if ordering more than one just skip a line between each personalization.
There must be a > at the beginning of each line to determine
the beginning of a new line.
(Hint: Use down arrow instead of enter key after entering each line.)

See Sample at Left.

STEP 3 - Choose Sounding Black if Desired ($22.50)

Includes Gift Box

STEP 4 - Click Add to Shopping Cart Button