We ship FAST, most orders ship same day!

Questions? Please Call!! Toll Free 866-282-9168
27 Years of Experience.
We're Here To Help.
Engraving Information
All trophies include three lines of engraving,
typically:
First Line - NAME
Second Line - TEAM NAME
Third Line - YEAR - DIVISION
If you you have a large quantity
of names and would like to save yourself
some typing and you would like to email a spreadsheet to us just enter email in the enter engraving area and email your spreadsheet to trophiesto@aol.com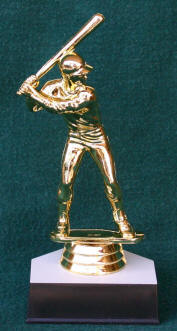 HP1M - (6.5")
Male Figure on
Home Plate Base.
$2.75

Also Available
in T-Ball

Sample Order Form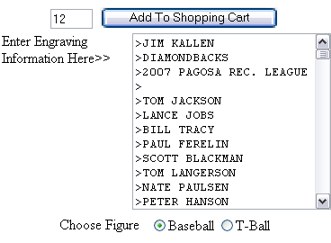 Place Your Order
STEP 1- Enter Quantity
STEP 2 - Enter Each Line of Personalization,
There must be a > at the beginning of each line to
determine the beginning of a new line.
(Hint: Use down arrow instead of enter key
after entering each line.)
(See sample at left)
STEP 3 - Choose Figure
STEP 4 - Click Add to Shopping Cart